President's Message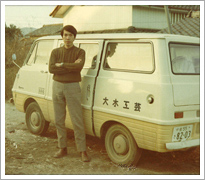 Early Days: April 1970 (Aged 25, weight 60 kg)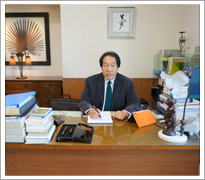 2012 (Aged 67, weight 98 kg – as the company grew bigger, my body seems to have grown bigger as well.)
I have been making products using synthetic resins for 41 years. Celluloid was discovered a century ago. This was followed by remarkable progress in science and industry. The chemistry of synthetic polymers has flourished, producing a wide range of synthetics. Meanwhile, pollution has become a global problem.
Now is the time to direct serious attention to natural polymers.
Natural polymers undoubtedly have excellent performance. They also have great functionality and information value. Their properties and functions can be used organically in the infinite cycle of nature. We can use these natural materials which already have established use. OHGI's way is "Learn from nature and return to nature." We follow nature, being a responsible company that is the guardian of the global environment so that we can all live safely and happily in the 21st century.